Monadnock Basic Expandable Baton Certification
Introduction
Monadnock is a well-respected and internationally known name in law enforcement education, through the Monadnock Police Training Council.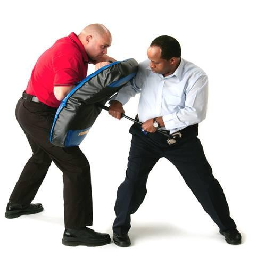 The Council's certification standards and procedures, as set forth in its curricula, are amply structured to meet contemporary legal challenges. The Council's expandable baton techniques can be quickly mastered and performed under stress, including the baton-aided, subject-control holds called "armlocks." The Council's certification curricula are fully researched in terms of tactical, medical and legal consequences resulting from police intervention.  A cadre of competent expert witnesses, who can render an opinion concerning the reasonable use of force as defined by contemporary law enforcement standards and procedures, stand behind all Council Certification programs.
Description
The Basic Monadnock Course Certification Program is a 4-hour course dealing with the blocking and striking capabilities of the straight expandable baton.
Basic Monadnock course certification techniques include stance, patterns of movement, baton grip, baton methods of carry, baton draws, baton two-handed grip blocks, baton counter strikes and baton retention.
This is a well rounded training approach that provides officer protection at three specific ranges for concluding an attack. Upon successful completion of this course, Officers will receive a 3-year certification.
Pre-Requisite:
Sworn Law Enforcement or Correctional Officers, state licensed Security Officers, or Active Duty Military personnel only.
Students will use department issued Expandable Batons issued from their home agency.
Must not have any medical conditions that prevents physical activity.
Cost: $69.95
Duration: 4 Hours
For Details and Full Discussion About This Course and Services, Send Requests To: