Chuck Bradley, Co Founder, Tactical Safety Institute
Phone: 210-314-4284
Email: chuck.bradley@tac-safe.com
I am a 27-year veteran of Law Enforcement in the United States Air Force, with 10 of those years serving as a Combat Weapons instructor and a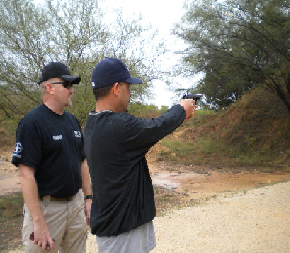 total of 17 years as a lead instructor for our Law Enforcement professionals. It wasn't long after beginning my Combat Weapons Instructor career that that I found myself preparing my fellow service men and women for combat missions in Iraq; a responsibility that I did not take lightly. During my instructor career, I was fortunate to twice be selected as the lead weapons instructor for U.S. military teams competing against allied nations from around the world at the global combat competition. We were very fortunate to win several medals and earn an overall first place and Gold Medal.
Prior to my instructor career, I competed at the world-wide competition myself (many years ago…lol), and was fortunate to win three Gold medals, as well as take first place at the Air Force Missile Combat competition (special thanks goes out to Army Special Forces for their helpful training). I have served as both Team One Point and designated Sniper for assigned Emergency Service Team units.
In the latter years of my military career, I was privileged to work with some of the best professionals in the military, where we developed cutting-edge training programs to include the current Air Force Active Shooter First Responder and Workplace Active Shooter program, which is now mandated training for all Air Force employees annually. In 2008, I was selected as the Air Force's Outstanding Civilian Employee of the Year, thanks to the hard work of a great team.
Now I'm focusing my attention back to my local community … my home … "our" families home, where I can take my experience and education and make our community a safer place for us to work, live and play at an affordable price that most all of us can afford. Unfortunately, history tells us that crime will never cease. In fact, most experts agree that it will continue to grow as society grows. However, how we prepare and educate ourselves to respond will lessen the impact and keep our communities much, much safer!
Aside from my formal education listed below, I have attended multiple leadership and management courses to include the Senior Noncommissioned Officers course…the pinnacle for senior enlisted military leaders. I am an Air Force master-rated instructor and maintain national and state certifications in the areas we offer to our clients. Furthermore, I am Six Sigma certified in LEAN principles. Enough about me … I look forward to having you in one of our training classes and welcome you to the TSI family.
EDUCATION
Masters of Business Administration, Wayland Baptist University, San Antonio, TX, Sept 2011 – Present
Bachelors of Information Technology, National American University, Rapid City, SD, May 2007
Associate of Applied Science in Information Technology, Community College of the Air Force, August 2001
Associate of Applied Science in Criminal Justice, Community College of the Air Force, August 2000