Daughter's of San Antonio Women's Basic Handgun Course
COURSE OVERVIEW
This 4-hour fun and affordable Basic Handgun course for Ladies Only is a conducted in a smaller class environment…sorry guys.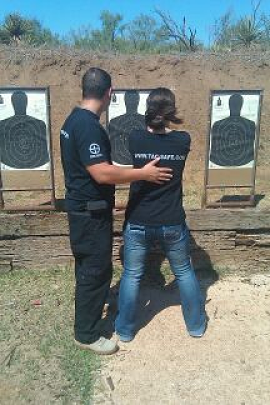 Shooting is an exhilarating and empowering pastime and this course maintains a low pressure and fun atmosphere. Ladies leave our training course with the ability to confidently handle a handgun.
The course introduces ladies to shooting handguns, and is designed specifically for ladies that have little or no practical shooting experience. The fundamentals and etiquette of safety and shooting are taught in a classroom setting, followed up with a live-fire practical experience with over-the-shoulder coaching.
Curriculum includes classroom instruction in firearms and range safety, safe handgun handling, loading and clearing a handgun, fundamentals of shooting, and a live fire practical session with over-the-shoulder coaching in a fun, but very safe setting. Subjects include:
Firearms and Range Safety
Handgun Nomenclature
Care and Maintenance
Type of Ammunition and Considerations
Safe Loading & Unloading of a Handgun
Introduction to Shooting Fundamentals
Discussion of Applicable Laws Concerning Gun Ownership
Range Exercise/Shooting Drills
DURATION: 4 Hours
---
ELIGIBILITY
18 Years of age, unless accompanied by a participating parent or guardian.

NO felony convictions or pending charges.

NOT a fugitive from justice, a chemically dependent person, or a person of unsound mind as determined by medical authority.

A Lady of Course 🙂
---
You will need the following:
Baseball Cap Recommended
Serviceable Handgun.
50 Rounds of Ammunition Specific to the Handgun you are Bringing
Impact Resistant Eyewear
Hearing Protection
Footwear that covers both entire feet … no sandals please. A top/blouse with closed collar encouraged (hot brass can be uncomfortable)
Most of all, a warm and friendly SMILE.
---
PRICING

---
CLASS NOTES:
Please ensure all handguns are unloaded prior to entering the training facility
Dress code is very casual and comfortable with closed-toe shoes. The firing portion will be outdoors, so you may want to bring a cap, sunglasses, and perhaps a full water bottle.
Course will begin in our classroom and end at Bracken Firing Range … it's about a 1 min drive.
Please call or email if you have any further questions. 210.314.4284.