Handgun Refresher Course
COURSE OVERVIEW: If you are somewhat new to shooting handguns or it's been awhile since you last fired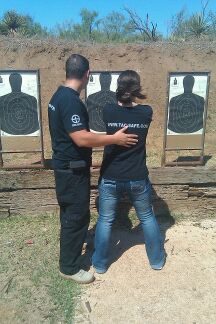 your handgun, this refresher course is for you. Maybe you just want fine tune your shooting skills on a private range with a certified instructor.
We purposely designed a shorter training session to provide hands-on refresher skills in the safe handling and proper operation of your handgun. Each student will work to their individual level of training with an on-site certified instructor. We begin with a refresher course in handgun operation in the classroom, and then we head straight to the range with a certified firearms instructor. The course provides a thorough refresher in:
Firearms & Range Safety
Solid Stance
Proper Grip
Correct Aiming
Breath Control
Trigger Control
Follow Through
Live Fire Exercise
COURSE DURATION: Approximately 2 – 2.5 hours
---
ELIGIBILITY
18 Years of age, unless accompanied by a participating parent or guardian.
NO felony convictions or pending charges.
NOT a fugitive from justice, a chemically dependent person, or a person of unsound mind as determined by medical authority.
---
YOU WILL NEED:
Clean Handgun in Good Repair
50 Rounds of Factory Ammunition Specific to Your Handgun
Eye and Ear Protection
Baseball Cap Recommended
Proper Range Attire
---
PRICING
---
CLASS NOTES
Please ensure all handguns are unloaded prior to entering the training facility
Dress code is very casual and comfortable with closed-toe shoes. The firing portion will be outdoors, so you may want to bring a cap, sunglasses, and perhaps a full water bottle.
Course will begin in our classroom and end at Bracken Firing Range … it's about a 1 min drive.
Please call or email (info@tac-safe.com) if you have any further questions. 210.314.4284.