License to Carry – Threat Response
COURSE OVERVIEW
This 2-3-hour course expands upon your initial License to Carry / Concealed Handgun License training.  We dive much deeper into a better understanding of Use of Force…Use of Reasonable Force.  Furthermore, we focus on tactical shooting fundamentals, Zone Shooting, and drawing the handgun effectively from a concealed holster.
We finish with each student going through our Use of Force Simulator where you will engage in shoot / no-shoot scenarios with instructor feedback.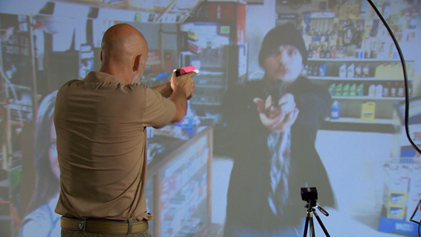 CURRICULUM INCLUDES: 
Firearms Safety
Tactical Shooting Fundamentals
Zone Shooting
Drawing a Concealed Handgun
Use of Force
Shoot / No-Shoot Scenarios
DURATION: 2-3 Hours
ELIGIBILITY
18 Years of Age.
NO felony convictions or pending charges.
NOT a fugitive from justice, a chemically dependent person, or a person of unsound mind as determined by medical authority.
You will need the following:
Serviceable Handgun chambered in either 380, 9MM, 40 S&W, or 45 … see Note 1
Serviceable holster you wear for Concealed Carry
Most of all, a warm and friendly SMILE.
Note 1: The goal of the course is for you to use your gun and holster.  However you can use ours at no charge.
PRICING
Course Fee: $65.00
Handgun Rental: Free if Needed
CLASS NOTES:
Please ensure all handguns are unloaded prior to entering the training facility
Please call or email if you have any further questions. 210.314.4284.